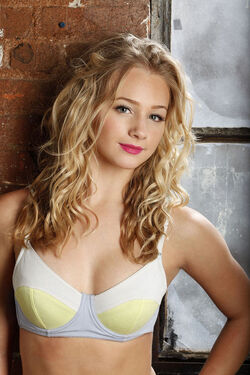 Mollee Gray
is a dancer, actress and singer from Utah. Her full name is Mollee Shon Gray and she's the daughter of Sean Gray and Thursday Martak. She was born in Salt Lake City on May 15th, 1991, but lived most of her life in Orem, Utah.
She started dancing at age 5 at the Winter School in Salt Lake City. Most of her dance training was at The Dance Club, in Orem.
When she was 13 she auditioned for the Disney Channel Original Movie, High School Musical and ended up being a featured dancer. She then auditioned for High School Musical 2 and became a principal dancer. After that she danced in the MTV movie "The American Mall", starring The Vampire Diaries star Nina Dobrev. She's mosly seen in the number "Survivour". In 2008 she was a principal dancer in the feature film: High School Musical 3: Senior Year, where she can be seen in most scenes, as an extra or a dancer.
At age 18 she auditioned for the television show "So You Think You Can Dance" Season 6.
She aspires to pursue acting and singing, along with her dancing. She has been trained in all three and wants to become a triple-threat.
Mollee auditioned season 6 to "Against All Odds" by the Postal Service. She got a ticket straight to Vegas.
Vegas Week
Edit
Mollee made it through all rounds of Vegas week despite an ankle injury. She made it to the top 38 and was put into the top 20.
Meet The Top 20
Edit
In the Meet the Top 20 Episode, Mollee performed a group number with the rest of the top 20, and a jazz number with Ellenore Scott and Pauline Mata, choreographed by Sonya Tayeh. Both routines received good critiques and, Adam Shankman commented that she just graduated from High School Musical.
Top 20 Performances
Edit
Top 18 Performances
Edit
Top 16 Performances
Edit
Top 16 Results Show
Edit
Critiques
Edit
The judges, at the beginning of the season, noted how immature she was. as the season progressed, they became complimenting her on how much more mature her dancing had become.
Personality
Edit
Mollee has a very bubbly and excited personality.
After the Show
Edit
Community content is available under
CC-BY-SA
unless otherwise noted.